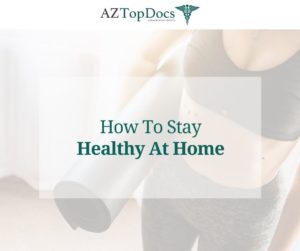 How To Stay Healthy At Home
By Nicole Fonzino (Originally Published in Health Living Magazine, 2019)
—
Who says you need to go to a gym to stay in shape? 
Ditch your gym membership and opt to work out in a more comfortable environment – your house! Here's some gear that will help you get healthy at home:
MIRROR
Enjoy variety with your workouts? With Mirror, you can switch up your daily exercise routine with no problem. Choose from interactive classes such as cardio, yoga, strength, Pilates, boxing or barre, and get ready to sweat. Instructors help you maximize your workout every time.
The high-tech display features an LCD panel, stereo speakers, camera and microphone. You can pair your Apple Watch to Mirror to track your heart rate and receive other biometric stats. Unlike other, bulky workout equipment, Mirror can conveniently be hung on any wall, so you can enjoy a tough workout without sacrificing aesthetics. www.mirror.co, starts at $1,495, membership fees separate.
PELOTON BIKE
If you enjoy having an instructor, then the Peloton Bike is an at-home workout must-have. This isn't just any old bicycle. It's equipped with a 22-inch HD touchscreen that lets you join classes led by an instructor, so it feels as if you're in an exercise classroom instead of your home.
The touchscreen also gauges your heart rate and other body metrics and lets you play music. The Peloton Bike's screen, seat and handlebar easily adjust to fit your desired riding stance, while the compact design fits perfectly in any room, allowing you to ride wherever and whenever you want. www.onepeloton.com/bike, starts at $2,245, membership fees separate.
BOWFLEX XTREME 2 SE HOME GYM
If you're looking to pump iron, look no further: the Bowflex Xtreme 2 SE Home Gym is what you need. Going up to 210 pounds, this machine's flexible design and Power Rod weights allow you to focus on building muscle on all areas of your body, including your back, shoulder, glutes, hamstrings, quads, abs and legs.
The standout feature is the no-change cable pulley system, which means you don't have to change cables during your workouts. The Bowflex Xtreme 2 SE Home Gym comes with squat bar and ab crunch shoulder harness attachments, seven free trainer-built workouts and the ability to upgrade your machine to more weight (310 or 410 pounds), if you're looking for an even more challenging workout. www.bowflex.com, $1,399.
FIGHTCAMP
If you've ever wanted to box but didn't have the time to train at a gym, FightCamp is for you. This workout will transform any room into a boxing ring. Your package comes with all of the essentials: free-standing bag built to absorb your hits; workout mat to keep the bag from sliding; handmade genuine-leather boxing gloves; punch trackers to measure your punch volume, speed and output in real-time; and quick wraps to hold your punch trackers in place and protect your wrists.
Once you set up the equipment, turn on the TV to access a library of workouts. You can select 15- to 45-minute videos and levels that range from beginner to advanced. www.joinfightcamp.com, starts at $1,095, membership fees separate.