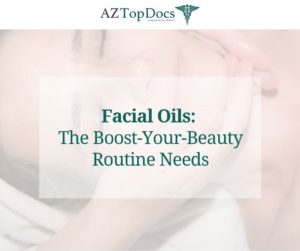 Facial Oils: The Boost-Your-Beauty Routine Needs
By Jamie Vallorosi (Originally Published in Healthy Living Magazine, 2019)
—
Of all products that touch your sacred skin, oil has the longest proven history of success. One hundred percent natural and effective, facial oils have been used through the millennia to smooth, refine, brighten and moisturize the skin from head to toe. Even if you have excessively oily skin, facial oils might be exactly what you need to balance your moisture level. They are beneficial to all skin types. Yes, there is even oil for sensitive or acne-prone skin.
Many are known for their healing properties and build a barrier to protect from harmful free radicals and bacteria. They are multifunctional whether you add a drop to your moisturizer in the AM, a layer to your clean face at night or a pea-sized amount in your foundation for a glowy boost. Let facial oil revolutionize your daily regimen, nourishing your skin to its healthiest state.
JOSIE MARAN ARGAN OIL
Let's start with the goddess of all oils: argan oil. 
Lightweight and non-irritating, argan oil is a luxurious moisture treatment to hydrate dry skin. With healing vitamin E, it renews skin cells for a youthful radiance. This one by Josie Maran is 100 percent pure, cold-pressed and grown organically in Morroco. If you're sensitive or dry, this will intensely revive your skin until you're glowing from cheek to cheek. $17
VIRGIN MARULA LUXURY FACIAL OIL BY DRUNK ELEPHANT
High in antioxidants, fatty acids and amino acids, marula oil heals oily, dry and acne-prone skin. After indulging in this rich formula, your skin will feel rejuvenated, tightened and plumped. Virgin Marula Luxury Facial Oil by Drunk Elephant is free of fragrances and chemicals—powerful marula extract in its purest form. $40
MIDNIGHT RECOVERY CONCENTRATE FROM KIEHL'S
Midnight Recovery Concentrate from Kiehl's is the ultimate age-defying oil solution for your nighttime routine. It contains calming lavender oil to soothe and relax your senses, aiding in a healthful beauty slumber. Next, evening primrose oil extracted from the eponymous flower renews skin's elasticity. And then there's squalene, a lipid derived from olives that soaks into your skin's surface to tighten and smooth fine lines while amplifying luminosity. $49
TATCHA JAPANESE CAMELLIA OIL
Japanese camellia oil stems from the titular flower grown on the Goto Islands. Rich in omega-6 linoleic fatty acids and an extensive list of anti-aging antioxidants, it easily seeps in for a supple and richly moisturized result. It contains cold-pressed camellia oil, meaning it is completely refined. The molecular weight mimics the skin's, allowing for quick absorption. This formula from Tatcha also contains 23-karat gold flakes for a gorgeous shimmer and licorice extract to reduce redness and soothe. Lastly, it holds Hadasei-3 Complex, Tatcha's signature trio of Japanese anti-aging superfoods: green tea, algae and rice provide more antioxidants to restore and brighten dull skin. Brimming with powerful ingredients, this product is a sinful indulgence. $95
HONEY GRAIL ULTRA-HYDRATING FACE OIL BY FARMACY
Honey Grail Ultra-Hydrating Face Oil by Farmacy is the holy grail of facial oils, a concoction of all-natural ingredients blended into a silky-smooth formula that nourishes the skin and rids it of toxins. It contains sea buckthorn oil extracted from the small shrub used for thousands of years for its healing properties. The antioxidants, omega fatty acids, amino acids and vitamins work together to protect the skin from free radicals. Honey Grail is also filled with various flower oils that aid hydration and deposit essential nutrients. Among these is rosehip oil, known for its antibacterial and restorative properties to treat acne and wrinkles and even out skin tone. All of these oils are blended with Buckwheat honey to smooth your skin's texture and deliver a beautiful dewy look. $48