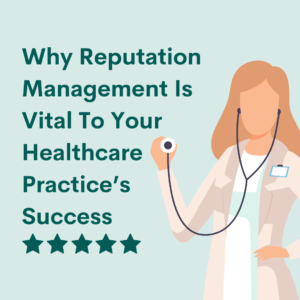 Why Reputation Management Is Vital To Your Healthcare Practice's Success
Can you believe that 40% of potential new patients  will only take into account online reviews that were written within the past 2 weeks! Timeliness and relevance are very important to your prospective patients. 
Are you helping to fulfill your prospective patients' needs?  Start encouraging your current patients to leave honest online reviews after each visit. Then once you start receiving online reviews, be sure to respond to each review as 89% of consumers read businesses' responses to reviews too. 
Your prospective patients want to see that you care about your current patients' experiences.
91% of individuals 18 to 34 years of age trust online reviews as much as they trust personal recommendations.  That's a big chunk of your client pool!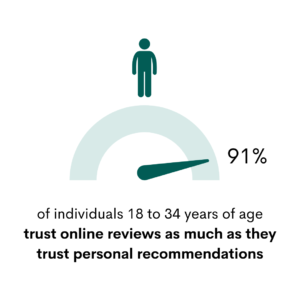 Plus with 50% of potential new patients  visiting practices websites after reading positive reviews, it's highly beneficial to your practice  to obtain high-quality online reviews.
Wondering how your medical practice can gain positive, high-quality online reviews?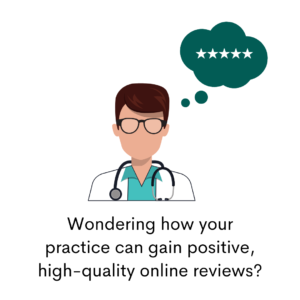 It's as simple as asking your current patients for their feedback! As a doctor's office, you have two prime opportunities to remind your patients that they can leave their feedback for you.   When checking in for their appointment, patients should be reminded that they can go to Google and share about their experience.   After an appointment, your office can also send a follow up email with a direct link to leave a review about their most recent visit. 
Both of these touchpoints can significantly amplify how your practice is seen online by prospective patients. Other than making yourself look better online, why would it be important to gain new reviews all the time?
Well, obtaining positive online reviews isn't just to make yourself look better to new and returning patients. According to Bright Local, companies often see a 5-9% increase in their business's revenue for every one star improvement on Yelp. An increase in revenue is always an achievement, but especially in a time like this, we both know how beneficial that revenue boost can be.
Now, if you Google yourself or your practice online and are seeing a lot of negative reviews…what can you do to fix this?  Click here to schedule a brief 15 minute consultation where our reputation management specialist will help you improve your brand's online presence.